Showroom Hours
Our showroom is closed this week for a special event.
Finding the best bike for you is essential to having a good experience with your e-bike. How far are you planning to go? How tall are you? What is your budget ? Use our Bike Finder test to narrow down your choices to the perfect bike!
Discover What makes the Velec Citi, The most discreet E-BIKE
TAILIGHT
Light changes when braking and can be set on BLINK for added safety
TRACTION
CST E-series 700x40mm tires with puncture protection and reflective band for better handling
POWER
High Torque Geared Rear wheel 350W motor (50Nm of torque)
BATTERY
Fully integrated color-coordinated. Internally concealed. Removable and lockable 10AH ion battery, with Samsung cells.
FENDERS
Thermoplastics fenders are bendable and shock resistant.
BRAKES
Dual-piston hydraulic brakes with built-in electric motor cut-off sensors for safety and 160-180mm rotors.
DISPLAY
Color LCD display console with 2.2" screen. Automatic brightness adjustment
A variety of high quality products...
MORE THAN
AN E-BIKE, A VELEC…
A Velec offers all the advantages of a good bicycle and much more! In Velec, you have the choice: you can pedal a quality multi-speed bicycle, be assisted by the electric motor or be propelled by this powerful motor, without having to pedal. The best way to keep in shape, at your own pace!
Learn More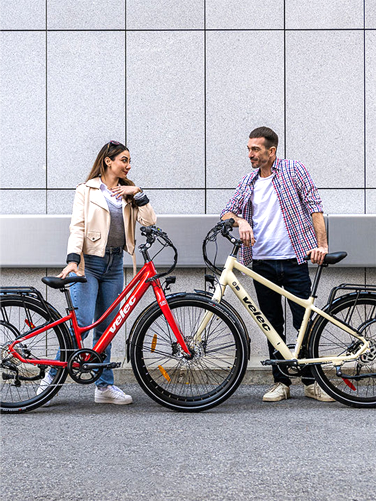 Watch Video
Quality

Our Canadian designed bikes offer the best quality available on the market!

Accessibility

Browse through our different models adapted for all types of cyclists.

Innovation

Eversince our inception in 2005, our mission has always been to push the industry forward through constant innovation.
DISCOVER OUR BEST SELLERS
Ride Farther. Ride a Velec.
Resource Center
Find information about Warranty, registering your e-bike and Technical Support
Visit Help Center
Find your e-Bike
Find the right e-bike for your riding style, autonomy needs and budget
Find Your e-bike
BETTER E-BIKES FOR MORE RIDING FUN.
WE BUILD BETTER E-BIKES FOR YOU.
BUILDING BETTER E-BIKES MEANS : DESIGNING QUALITY FRAMES ADAPTED TO YOUR NEEDS. OFFERING THE QUIETEST MOTORS ON THE MARKET. BRING YOU MORE TORQUE WHEN NEEDED.
Frequently
Asked Questions
Ideal for going to work or shopping without sweating. Suitable for getting in shape at your own pace. The electrical bicycle makes it possible to assist all cyclists, whether they are beginners or experienced, faster and easier than a regular bike. Farewell to the fear of steep slopes and headwinds that discourage many cyclists. In other words, a Velec allows you to go further with less effort and more pleasure.
Velecs are available where qualified advisers and technicians will be able to assist you in the purchase and maintenance of a quality power-assisted bicycle. Our network of authorized Velec dealers has more than 400 points of sale across North America.
Plug the charger into a 110V AC outlet. A red light will turn on on the charger to indicate it is in charging mode; a green light will illuminate on the charger to indicate that the battery is fully charged.
A full charge can take between 1h30 and 8 hours without interruption depending on the capacity of the battery and the power of the charger.
The minimum age required to have the legal right to ride an electric bike is 14 years old in Quebec (with a Class 6D driver's license) and 16 years old in Ontario and British Columbia.